Occasionally Special Collections is approached by an outside institution wishing to borrow one or more of our items to include in an exhibit. There are all kinds of things to take into consideration when dealing with exhibit loan agreements – What is the current condition of the item? Is the item too fragile to be shipped or displayed? Do any damaged areas affect the aesthetic of the item?  Should any damage be fixed or stabilized before the item is displayed? How will the item be used or displayed? How long will the item be displayed and under what types of conditions? Will photographs or reproductions of the item be made for exhibit catalog and publicity purposes? – These are just a sampling of the types of questions asked before a loan agreement is made.
Special Collections recently prepared several items for shipment and display. In this particular instance, we were also responsible for making our own support cradles for the materials being loaned. This served two purposes, first we were able to make sure the cradles were made to our exact standards and that our materials were well supported. Second, we were able to hold onto our materials for almost a month longer than if the cradles were being made by the exhibiting institution.
I was instructed to make our cradles out of black museum board. Other than that, I could construct the cradles however I saw fit. I chose to use a folded board technique to accommodate for the thickness of the books, as  both were going to be displayed laying open to a page towards the front of the volume. To create the cradles I gently opened the book to the page to be displayed and made a tracing of the profile of the open book. I then transferred the measurements from the diagram to the museum board and scored the board to create the various folds. The cradle is held in it's final shape with archival double-sided tape.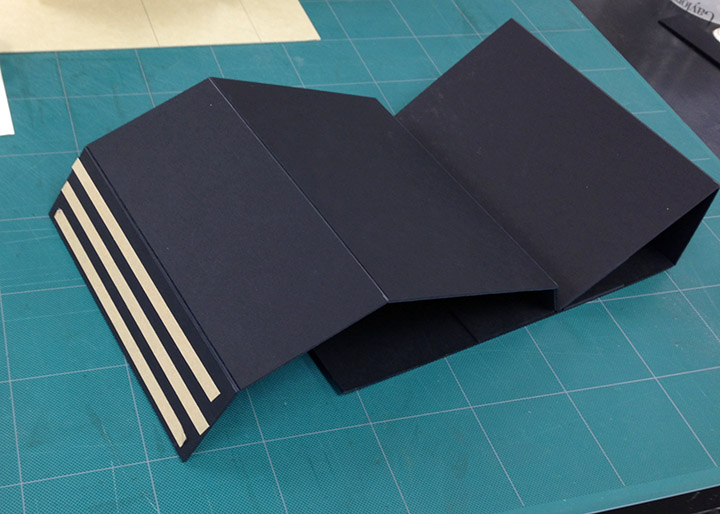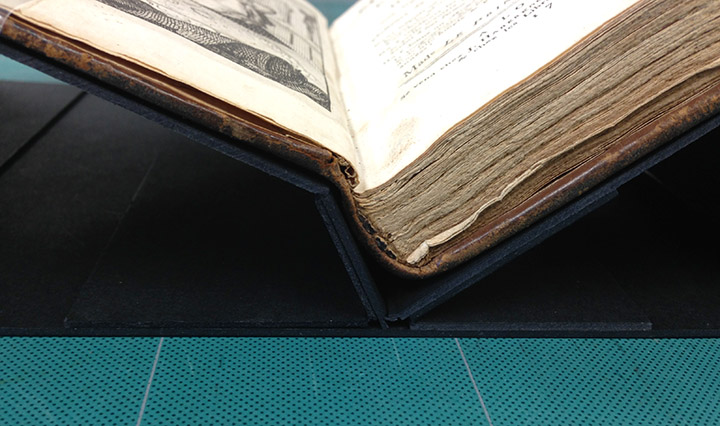 The open volumes rest easily in the custom cradles, and strips of mylar are used to gently hold the volumes and open pages in place.
Once the custom cradles were complete, we boxed the items up for shipping. This of course requires far more diligence than mailing your everyday package. In certain cases an institution may choose to hire a courier service or even hand deliver the materials themselves. We decided to go with a shipping company, and followed this guide from the Northeast Document Conservation Center (NEDCC) when packing our materials to ensure their safe delivery.
Ashley Jones
Preservation Librarian