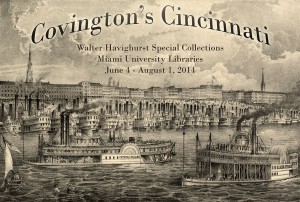 This summer we are highlighting one of our major collections in our main exhibit: Covington's Cincinnati: The Samuel Fulton Covington Collection (June 4-Aug 1). I have had the pleasure of collaborating on this exhibit with John H. (Jack) White, MU '58 and a Cincinnati native, who spent many years as a curator of transportation at the Smithsonian and whose acquaintance with the Covington Collection goes back to his college days.
On Thursday, July 24, from 4 to 6 p.m., we will host a public reception and we invite you to join us. Jack White will provide a guided tour of the exhibit and share some of his amazing breadth of knowledge of the Queen City. We're delighted that the Williams family, descendants of Covington, will be joining us for this event.
Samuel Fulton Covington (1819-1889) was born in Rising Sun, Indiana, and after a few years of trying several occupations ended up in the insurance business in Cincinnati. Although never a "big name" in the business, he was well-known in local business and political circles and made a comfortable living for himself and his family, eventually settling in Madisonville. His son John I. Covington graduated from Miami in 1870 and married a Western College girl. Their daughters both graduated from Western; one of them, Annette, became a well-known regional artist. The other, Mary, married a Miami zoology professor, Stephen Riggs Williams.
Like other businessmen in the late 19th century, Samuel began to collect books in his leisure time. He had a strong interest in local history and began to think of writing a history of Cincinnati. His collection, while wide-ranging, had a particular focus on the history of the Old Northwest Territory. His history of Cincnnati, alas, was never written.
In 1915 his widow sold his book collection to Miami University. In recent years his descendants via Stephen Riggs Williams have donated large sections of the family archive to Special Collections. This extensive family collection — letters and personal diaries, account books and business papers, photographs and ephemera –provides a fascinating perspective on one family's experience in late 19th century Cincinnati.
One of the pleasures of creating an exhibit is the opportunity to take time from one's many other responsibilities and really explore a collection. Jack and I had the invaluable help of Special Collections Librarian Kimberly Tully and Caylan Evans, our graduate assistant this past year. They led us to many wonderful finds and topics, from steamboats to the Industrial Expositions to love letters. One of my own finds was an early Ohio River navigation guide in which a young Samuel had practiced his name and on the map showing Rising Sun had written, "This is where I live." Another came from a different collection entirely: an amazing panorama,  Panorama of the Procession of the Order of Cincinnatus, published upon the opening of the 1883 Exposition.

Caylan completed the work begun by two other GAs in compiling a finding aid for the Covington Family Papers, under Kim's supervision. It is now available online. Samuel's book collection has continued to grow during its century at Miami and is now a comprehensive collection  that includes almost every significant example of 19th century regional history. Covington books are represented in the library's catalog with the designation "Cov."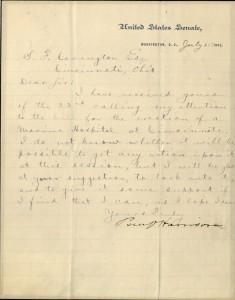 Exhibits often lead to continuing discoveries as we all learn more about our collections. After the exhibit was completed, in the course of following up a separate inquiry, I discovered a letter that had come in with the Covington materials but had been separated from the rest of the collection. There was, however, a very good reason for this. The letter had been written to Samuel by Senator Benjamin Harrison (MU 1852), replying to Samuel's inquiry regarding a political matter, and had been placed with our other Harrison correspondence. It is listed in the Harrison finding aid; we will add a cross reference to it in the Covington finding aid as well.
Samuel himself  attended Miami, but only for a year; he was forced to leave and go to work to help support his widowed mother and family. But Samuel Fulton Covington will always be an honored name at Miami. His books and his family have made certain of that.
Elizabeth Brice
Assistant Dean for Technical Services & Special Collections