Graduation is a time of many transitions. One transition we're very aware of this time of year at Miami is the transition from student to alumna/alumnus.
Here in the Miami University Libraries we are already planning for Alumni Weekend, coming up June 19-22. In Special Collections and at the Archvies we will welcome alumni back with some extended hours and special exhibits – more on that to come.
The quiet of an Oxford summer will be enlivened by the return of a diverse population – young and old, men and women, scholars, business people, teachers, lawyers, scientists, artists, mothers, fathers, grandparents, great-grandparents – all united by one thing: a collection of fond memories of the time they spent here as students.
They will try to match their memories of the campus with the changed reality that is a living university. Some things may look the same, some very different – and some a combination of the two.
The Slant Walk is one of the most iconic parts of campus. During the past 30 years the gates and the walk have not changed significantly. But look back a few decades further and the Slant Walk – at one time the Slanting Walk – had a more rural feel.
I hope you enjoy these images from the Clyde Bowden Postcard Collection Online of an earlier Miami.
And congratulations to the Class of 2014, our newest alumni. Hurry back.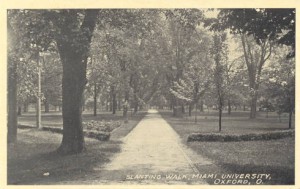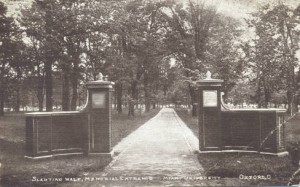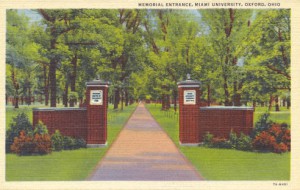 Elizabeth Brice
Assistant Dean for Technical Services and
Head, Special Collections & Archives