Vladimir Lebedev is considered the greatest reformer and the most prolific and successful children's book illustrator in the Soviet Union. Many generations of Soviet and post-Soviet children were raised on the works of this brilliant and versatile painter.
Illustration wasn't his only passion. He was also an accomplished and revolutionary (politically as well as creatively) avant-garde painter and poster artist. The part of the André and Catherine de Saint-Rat collection dedicated to Lebedev, however, focuses largely on his illustration work. There are a very large number of children's books illustrated by Lebedev in Special Collections.
His work, illustrative and non-illustrative, ranges from constructivist and cubist experimentation to socialist realist, almost saccharine renderings of children and animals. The change in his style is amazingly chronological. As one of the few great Russian avant-garde artists, who chose to stay in the Soviet Union, rather than look for creative freedom abroad, he had to adapt to the political climate. It's interesting to trace and compare his artistic career to those, who chose to take it to Europe and the United States. Lebedev became successful very early in life, before he even finished his education. In the early 1920s he was already an influential figure in Soviet illustration. When the state publishing house opened a children's book section, Lebedev was a natural candidate to head the department. While spending time with no less distinguished colleagues Mstistlav Dobuzhinskii, Iurii Annenkov, and Kazimir Malevich, he was in the position to reform the entire approach to children's book illustration, attract the best illustrators of his generation, and raise a new generation of artists, such as Vladimir Konashevich and Iurii Vasnetsov.
His most frequent collaborator was chilren's writer Samuil Marshak, with whom Lebedev created the majority of the chilren's books. They were both loyal to the cause of raising a more aware generation of Soviet citizens, using more straightforward and politically conscious subjects, simpler rhymes and shapes, and very bold colors. They became the most powerful creative duo in the first decades of the Soviet Union, constructing the new children's book standard for the new world. However, not even the strong Soviet political agenda prevented Lebedev from remaining one on the most talented, skilled, and versatile painters. His paintings in the same time period were highly experimental, executed with seemingly effortless skill and fluid colors and lines. His very large body of work shows a wide range of technical skill and experimentation. Regardless of whether or not his style appeals to the viewer, everything about his execution is perfect and has a certain simplicity even in the most complex pieces.
In the mid-1920s and 30s, when most of his peers chose to leave the Soviet Union, Lebedev remained in the country. When the socialist realist style of painting and writing started becoming more prominent and culminated in acquiring the status of state policy in 1934, artists like Lebedev and Konashevich became victims of frequent attacks. His illustration style began to change drastically to highly naturalistic and saccharine renderings of "healthy" Soviet children and animals by the late 1940s. These attacks came as a surprise to Lebedev and he seemed to never recover his creative self-esteem, not even during Khrushchev's "thaw" of the 1950s and 60s.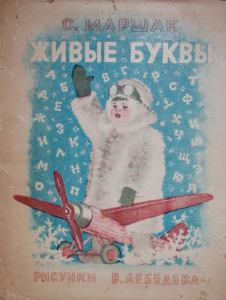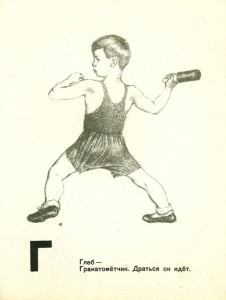 Zhivye bukvy (The Living Alphabet). 1940
His legacy, however, whether experimental or naturalistic, is lasting and Lebedev is still considered the high point of Soviet and Russian children's book illustration. This legacy is very well represented in the André and Catherine de Saint-Rat collection.
Masha Stepanova
Slavic Librarian