We have several new finding aids available online to scholars, all of which are the culmination of many hours of hard work and dedication by our staff and students.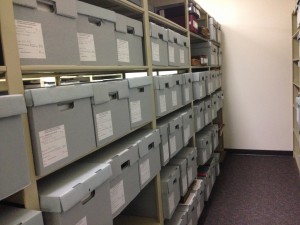 We now have comprehensive finding aids for the entire Usigli Archive, thanks to temporary project staff member Eleanor Castaneda who spent two years immersed in the life and works of the father of modern Mexican drama, Rodolfo Usigli.  This extensive collection is now described in two finding aids, one for Correspondence and another for the Papers, which encompasses a wide range of materials including manuscripts of both published and unpublished works, photographs, published materials, theater programs and ephemera, scrapbooks and diaries, publicity prints, and audio-visual materials.  Already these finding aids have improved how researchers use the Archive, both in our reading room and remotely, by making the discovery and retrieval of items in the collection much more efficient.
Rodolfo Usigli Archive: Correspondence
Rodolfo Usigli Archive: Papers
John Bickers, an undergraduate student  and member of the Miami Tribe of Oklahoma, has recently graduated, completing three semesters of work in Special Collections with the Myaamia Collection.  In addition to assisting with the description and transcription of historical documents, including annuity rolls and land grants, for the Myaamia Collection Online, John has also created finding aids for manuscript and research materials in the Myaamia Collection.
Myaamia Collection: Godfroy Family Papers
Myaamia Collection: Lambillotte-Willard Collection of Turtle-Wells Family Papers
Myaamia Collection: Luke Scheer Papers
We also benefit from the work of the graduate assistants in our department who, in addition to supervising researchers in our reading room, are often assigned manuscript processing projects. Eric Souder, a history masters student focusing on Russian history, cataloged Russian language ephemera in the de Saint-Rat Collection of Russian History, Literature and Art and created a detailed finding aid for the James W. Hamilton Family Papers. The Hamilton family papers consist largely of correspondence between three brothers in mid-nineteenth century Ohio and Illinois, all of whom practiced medicine and two of whom became successful local and state politicians.  The collection, now accessible to researchers for the first time, adds to our rich resources on nineteenth century American life in the Midwest.
James W. Hamilton Family Papers
My sincere thanks to Ellie, John, and Eric for their fine work!
Kimberly Tully
Special Collections Librarian