At the Walter Havighurst Special Collections and University Archives, the staff has continued to share our many collections with Miami students, faculty, staff, and the greater Miami community. The work that is performed with our collections has been recognized by individuals and organizations around the world. Our staff have received many accolades while assisting students who made discoveries in the classroom or researchers who are using our materials for the first time. The work that our student assistants perform allows our staff to do a number of great things. These tasks are different from those of student employees in other areas of the library as they can involve using specific software, such as Adobe Lightroom, or searching through our catalog using advanced search strategies. There are three of our students who deserve to have a bit more recognition as they have graduated earlier last month.
Meet Abby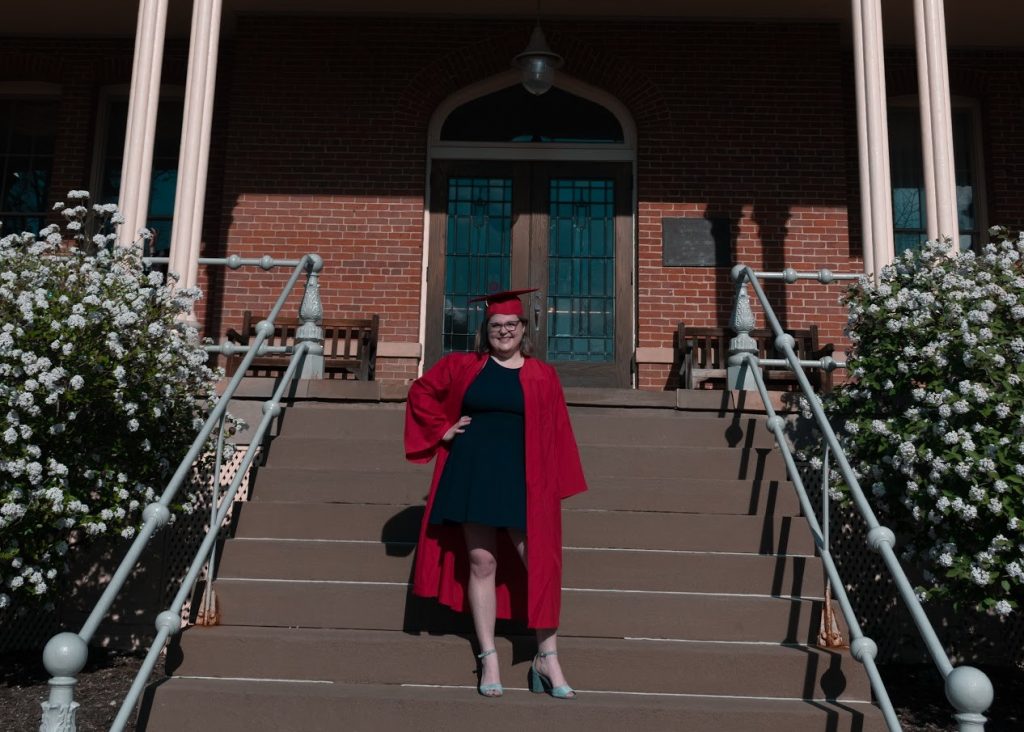 Last month, Abby completed a Bachelor of Arts in Classical Humanities and a minor in Archeology. Originally from Granville, Ohio, Abby joined the Walter Havighurst Special Collections and University Archives ("Spec" as it's commonly referred to) at the beginning of the Spring 2021 semester. She was hired to join a small team of students who were working on the W.E. Smith Family Charitable Trust grant project. (This is the same grant that our previously highlighted student, Megan, was working on.) Abby began working to crop the digitized pages of the course catalogs from Miami University (The Bulletin), Western College for Women, and Oxford Female College. Cropping allows for our virtual researchers to view a clear page. These catalogs list all courses provided during academic years, with our earliest copy beginning in 1826 for Miami University, 1854 for Western College for Women, and 1849 for Oxford Female College. These have been imperative to researchers who are studying trends in education and for those who are curious about the courses a relative (such as a parent or grandparent) may have taken while attending Miami, Western, or Oxford College. With the yearbooks also available online through our Digital Collections, our virtual researchers can find pictures of their parents, grandparents, and other friends and family and see the organizations and teams that they were involved with.
Another project that Abby had been working on for our Digital Collections involved creating descriptive metadata for digitized postcards in our Bowden Postcard Collection. Over 650,000 postcards have been compiled to create the Bowden Postcard collection. As described in her interview above, Abby used a standardized vocabulary when describing each postcard and transcribed the handwritten messages on the back of each one. Abby's work makes these postcards easily discoverable and searchable.
Outside of her work in the department, Abby enjoys sewing, crocheting, video games, cooking, volunteering at animal shelters, and going to museums. When asked why she was interested in working with us, she stated, "I wanted to gain experience in archives and learn what parts of the museum field I want to pursue later in my career." After graduating, she would like "to work in the archives of a museum or historic organization, helping to ensure that histories far and near are remembered and accessible for the future." When asked about her experience with us, she said:
"The staff are so welcoming. Even though I've only worked here for one semester (and only half of the time in the Spec offices because of the pandemic), I've felt more at home here than I have at any job I've had before. I feel appreciated and wanted and that drives me to provide the best results that I possibly can!"

-Abby Lebovitz
We're happy that you chose to work with us. Thank you, Abby, for the work you've done with us. We will miss you very much!